Sealed auction software that works
Why keep looking for a solution for your sales when we have an online auction software solution that works?
With the growth of the internet, the benefits of anonymity are clearly advantageous when it comes to running an online auction sale in conjunction with your sealed make offer and buy now options.
Online bidders log into the platform using a secure login to anonymously place bids on items.
✅ Everything you need to run online auctions from your own website
👩‍💻 Bidder & Admin Portal
🎥 Live Webcast Auctions
⏳ Timed Online Auctions
🤚 Make Offer or Buy Now Options
🏷 White Label Auction Software – 'value protect your bidders & IP' ( Not a group site
)
So modern works on all devices without frustrating bidders to download apps
📈 Marketplace
🧑‍💻 Includes Setup, Training & Ongoing Support
🖥 Websites & Marketing
🧾 Auction invoicing & Reporting
☁️ No expensive hardware investment as it runs from the cloud
😊 Simple for bidders and powerful for auctioneers
Why our auction software solution is the one for your next auction event
With limitless photographs, descriptions, PDF reports, and more, all tastefully displayed on separate product description pages, make the most of every chance to promote your things for your auction event. In order to make surfing between lots easier, related items are matched to your lot.

Invoice production, language translation, currency conversion, and real-time reporting are all made possible by the system.

With more than 15 years of experience running online auctions, we have the expertise and tools to support you in launching your auctions.
Increase profits, make your auctions a success
Why wait? See how our auction software may benefit your company, cause, charity, or event,
Request a demo from us.
With dedicated contacts available for you and your bidders throughout the course of your sealed event, our auctions are fully supported. Start today by increasing your company's profits.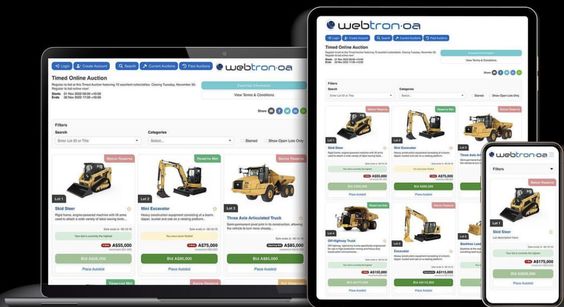 The New Webtron 7.2 Auction Software is here
It's 'Simple for bidders and powerful for auctioneers'.
Take advantage of a white label auction solution that runs from your own website. It has been designed for auctioneers like you to take your online auction business to another level.
There has never been a better time to upgrade your online auction software to Webtron's 7.2 newest auction software release.
Please get in touch and arrange a demo for your business.